Lace up your shoes and lets go for a noontime run around downtown Tulsa. I brought along a recyclable film camera to document.
First up, …
a Penguin? Yep, a penguin, in the lobby of the building housing my health club, that was part of a Tulsa Zoo fund raiser years ago. I like penguins but I have had nightmares about this one.
Here is a more manly sculpture in the same building.
Tulsa is the Oil Capital of the World, just so you now. At least it used to be.
Now on past the biggest retail establishment downtown.
Sadly it is our downtown porno outlet. Downtown Tulsa used to be teeming with all sorts of retail establishments. At least the owners keep the exterior nice and the building maintained.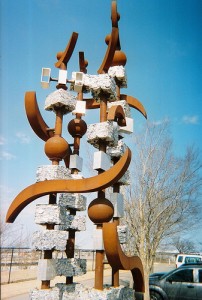 I have no idea what this is about. It has lots of smashed aluminum cans in it. Maybe the commission required so much recycled content. I don't know.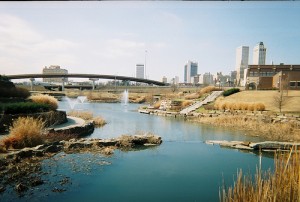 I love Centennial Park just outside of downtown. I try and make a loop through it on all my runs. There are about five geocaches in and around the park. I have found them all but I'll tag along if you want to look for them.
This is the office building for our Mayor's oil and gas production company (Mayor Dewey Bartlett's family owns Keener Oil and Gas Company). You can see just on top of the building a solar panel. Tell me solar energy is a bad deal when oil and gas companies are taking advantage of it.
We are on the home stretch now. We pass the iconic Boston Avenue Methodist Church built in the 1920's. It is beautiful inside and out.
You have heard of Tulsa's giant Praying Hands? What about our giant Rabbit Ear TV Antennas?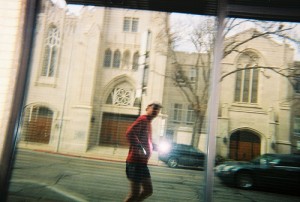 Self portrait, look at that gut. It would give me at huge advantage in a close race at the finishing line. Of course they would have to lower the ribbon down from chest level for me to take advantage of it.