Lots has been happening lately. Wednesday and Thursday was the annual meeting of the Natural Gas and Energy Association of Oklahoma ("NGEAO") at the Hard Rock Casino near Tulsa. I always have a great time connecting with old friends and coworkers. They have had it at the Cherokee Tribe owned casino for a number of years now and they do a great job hosting it but the cigarette smoke on the way to the convention center about kills me. The convention center is smoke free and doesn't cause any problems but I will be hacking for a week. Why does smoking and gambling go together?
And I have been watching with interest all the commotion with the Dakota Access Pipeline up in the Dakotas. Something about that pipeline has a bunch of our Indian Tribes upset. A judge cleared the way for the pipeline to proceed on Friday but the Obama administration immediately halted construction pending further review. I think that is the wise thing to do personally. Lots and lots of issues to sort out. Meantime, every day that the project is delayed results in ten more unit trains hauling the oil. Why some people think that trains are less polluting and more safe than pipelines really puzzles me. Also, how come we suddenly don't like pipelines crossing rivers?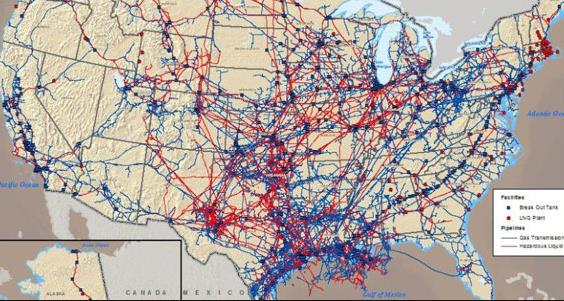 This is an out of date map of major pipelines in the United States. There are literally hundreds of pipelines crossing thousands of rivers, creeks, lakes etc from one end of the country to the other. Why is Dakota Access so special? Funny thing is that the tribe took no interest in the pipeline and declined to participate in meetings until construction started. Oh well.
Heather and I had our 27th Anniversary this week. Twenty seven years is a long time. We went out to a nice place to eat and earlier saw a really bawdy and funny movie,"Bad Moms." More on the movie later.
So what have you been up to?