I am not sure where this started. I saw it first on Facebook from blog friend Terry of Coffee with Clark and when I googled it I saw it here. So I hope that I'm not stepping any toes but here goes.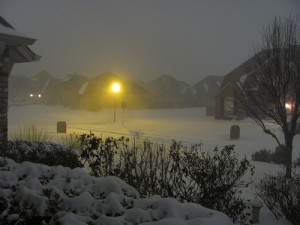 SNOW…klahoma
Where the cold front's sweepin' down the plain
And the piles of sleet, beneath your feet
Follow right behind the freezing rain.
SNOW…klahoma
Ev'ry night my honey lamb and I
Travel home from work and hope some jerk
Doesn't wreck our car in passing by!
We know we belong to the land
But it could use some more salt and more sand
That's why we say…WHOA!
We're the sliding the other way…YIKES!
We're only sayin'
You're slick as snot SNOWklahoma
SNOWklahoma
SNOW-K-L-A-H-O-M-A
SNOWklahoma, SNOW-K!
Of course it is hard to get sympathy in my family. Except for brother Bob who now resides in Corpus Christi, Texas I am the southernmost member of my family, by a long shot.
Have you ever seen more worthless cats than ours? Let me know.