We are getting a little snow here in Tulsa today. I mean we are glad we are getting snow, we thought we were getting ice. Okies don't like ice. Lots of things can happen with ice and none of them are good. You can wreck your car, you can lose your power. Then you get to sit in the dark freezing listening to your neighbor's generator roaring away. That can be pretty irritating.
We got a little bit of ice. Not a whole lot. Snow is a relief.
Hey bird, go South. Whattaya doing sitting in that tree?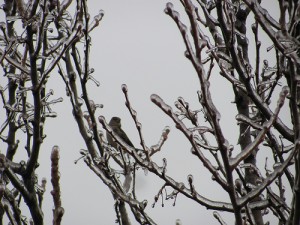 I thought one of our neighbors had icicles. He did, Christmas lights, augmented with real ice.
Did you see my other neighbors yellow Christmas lights in the tree. We have a lot of Christmas spirit in our neighborhood. I have not taken ours down yet either.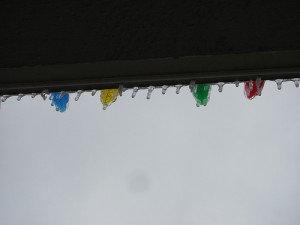 I'm thinking about keeping up for Valentines Day. Do you think I should?
Our neighbor's willow tree is leaning over again to say hello.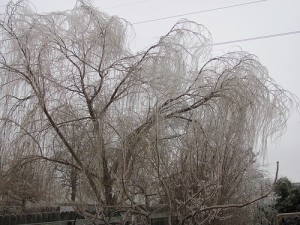 Lets do macro for a second.
How is your weather?