Yesterday I took a half day off and played a round of golf with some coworkers.
Above, note the equipment. The finest irons on the generic market of 1988. The best $19.95 driver and 3 wood Sam's had in 1991, and a wonderful $7.50 Walmart putter from 1992. Nothing but the best for me. Sweetie got me the golf bag a few years ago, its the best item of equipment I have, next to my lucky SpongeBob SquarePants golf balls.
BTW – I still love that license plate!
My coworkers. We had a great time.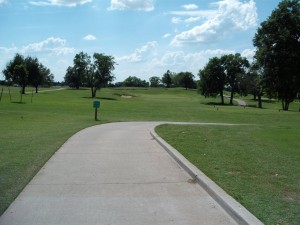 The weather was warm, humid, and sunny. Wonderful.
Signature hole. I wonder if they would let me hide a geocache there?
We played some golf, we drank some malted beverages, a couple of us made some great shots, some of us made some horrible shots, but we all had a great time.
How did I do? What do you mean? I played golf during working hours so I did great!
Oh, you mean what was my score?
OK, I shot a 64 – pretty good uh?
and
a 62 on the back 9!