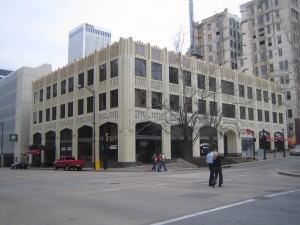 The Pythian Building in Tulsa, sometimes called the Gillette Tyrell Building started construction in 1929. Originally it was going to be a 3 story office building with a 10 story office tower. That topped with a penthouse. The stock market crash happened though and the owners did not build the hotel tower. This story sound familiar?
The exterior is mildly interesting if one knows what to look for. There is a lot of tilework set into the terra cotta. Really it is a an understated building on the outside.

The interior is another story. It is L shaped and has spectacular tilework on the floor and walls in shades of blues, reds, and creams. The ceiling of the lobby has a fake skylight that uses etched glass.
The tiles are durable also. I am told that the floor tiles have never been replaced. The building is fully occupied and the present owners are taking very good care of it.
The detailing of the tile work is wonderful. No two patterns are alike.
I'm told that this type of Art Deco decoration is called "zig zag." Sounds good to me.
A local architect, I cannot remember his name, likened the effect to a 3D persian carpet wrapped around you. I loved that description.
To see other visions of the world check out "
My World
."