The Yogi's are on vacation down in the Redneck Riviera of Alabama and typically we read a lot on vacation. Some people drink a lot, well we drink some but we read a lot. Don't worry I'm not going to be calling you for bail money slurring about some big mistake some day. At least I won't be calling me you if I don't have you cell number. Oh, sorry, back to the reading. I ripped through True Grit by Charles Portis in a day.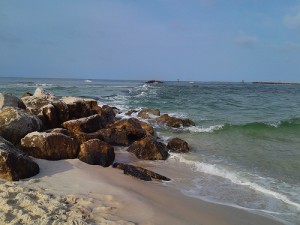 (Chasing after a geocache at Perdido Inlet, Alabama)
You remember True Grit starring John Wayne from way back when and Jeff Bridges from a year or two ago. Yep, the movie. Well the movies are great but the book is even better.

(Yep, we played bingo for free drinks at a beach bar, what of it?)
True Grit is the story of Mattie Ross a fourteen year old girl and her quest for justice for her father. "I was just fourteen years of age when a coward going by the name of Tom Chaney shot my father down in Fort Smith, Arkansa, and robbed him of his life and his horse and $150 in cash money plus two California gold pieces that he carried in his trouser band."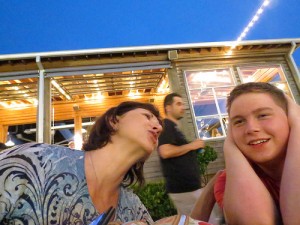 (Sometimes we embarrass our son so much. Sorry kid, we love live music.)
Tom Chaney took off for Indian Territory, Oklahoma after shooting Mattie's father. Mattie travels to Fort Smith, Arkansas to hire a Federal Marshal "with grit" to go after Tom Chaney. She hires Rooster Cogburn and negotiates the terms of his employment.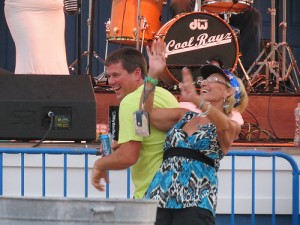 (I mean everybody is having fun!)
Although John Wayne is the star of the movie (No offense Jeff Bridges, you are a great actor, but you are no John Wayne) but Mattie is the star of the book. She travels by herself into Fort Smith and takes over the town and takes no guff from anybody. When one of the characters threatens her with a spanking because she is so cheeky she tells him, "Put a hand on me and you will answer for it. You are from Texas and ignorant of our ways but the good people of Arkansas do not go easy on men who abuse women and children."

(The weather is warm and the skies are nice down here in Alabama this week.)
Portis' writing is superb and he knows how to spin a good story and keep it moving. I had read that he may be one of the most under rated writers ever in America and I can now believe it. This book is wonderful and I give it five stars out of five. Oh yes, a spoiler, Rooster Cogburn does charge into the bad guys with the reins in