Where East Meets West is a newly installed sculpture by Robert Summers at Tulsa's Cyrus Avery Plaza. Cyrus Avery is considered the father of Route 66 and interstate roads in general. Cyrus Avery Plaza is right on Route 66 right on the Arkansas River just outside of downtown Tulsa.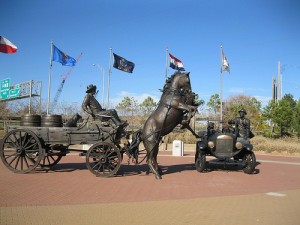 The sculpture done at 135% life size depicts a horsedrawn wagon from the oilfields of west Tulsa encountering an autombile driven by Cyrus Avery. It depicts the transition from the old to the new.
Avery is shown getting out of his car to deal with the situation.
While his daughter tries to hold onto the terrified family cat without getting clawed to shreds. Of course being the good blogger that I am I neglected to get a picture of Avery's wife.
There are numerous details on the piece that show the care that Summers took. This is Avery's shoe.
My favorite detail is the dead grasshopper on the grill.
He did a lot of research also. The oilfield tubing in the back of the wagon has special joints called upset tubing. I don't think your typical artist would know what that is.
More detailing on the wagon. Notice the wood grain and the screw and fitting. Very impressive.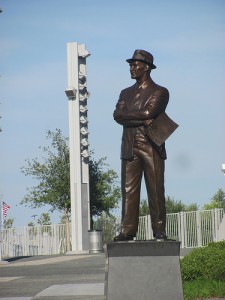 I had never heard of Robert Summers before but it turns out that he has several well known works to his credit. The Dallas Cowboys commissioned him to create the likeness of Tom Landry, pictured above, that is placed just outside Cowboy Stadium in Arlington, Texas.

So if you driving on Route 66 stop and spend some time at Cyrus Avery Plaza and admire the sculpture installation.