Wednesday night Sweetie and headed downtown. The first stop was the penthouse bar at the Mayo Hotel for drinks.
And then on over to the BOK Center, my employer was nice enough to give us tickets to see Stevie Nicks and Rod Stewart together. I had had never thought of them belonging together but you know they both had their peak in the that brief time between rock and roll and disco (ughhhhhh).
Stevie Nicks opened up and sang eleven songs including several Fleetwood Mac Songs like "Dreams" and "Gold Dust Woman."
Everybody was commenting on the drummers hair. Maybe he has been on the road too long. What do you think?
Ms. Nicks also sang a haunting "Soldier's Angel" based on her visit to Walter Reed hospital several years ago.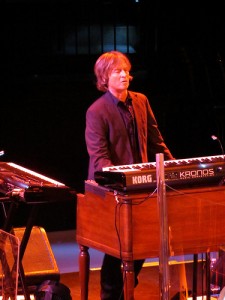 I saw Fleetwood Mac in the early 1980's when I lived in Houston. One thing I remembered was the onstage dressing room she had. Well she has a fancier version now.
I used to think that she had only one song, "Rhiannon" and not much range to her voice. Well I decided a long time ago that she is what she is.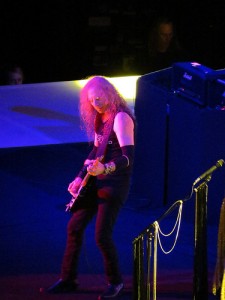 She brought a shawl out and twirled about with it. She said it was from an early 80's MTV music video.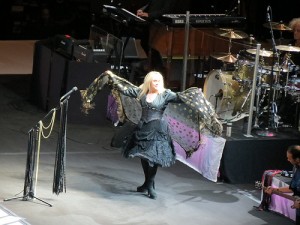 I am not going to be rude and say how old she is. She still looks and sounds great.
Next up was Rod Stewart. Stevie Nicks was sultry and seducing. Rod was sassy and fully of energy.
He brought a large band with him and they did great, especially his violin player.
And his saxophonist. I guess that the guy who sings "Hot Legs" would want short dresses on his musicians.
Not that I noticed.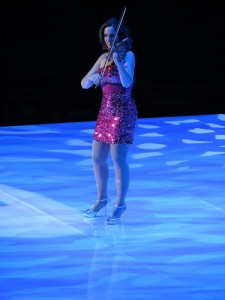 He opened up with "Love Train" and went right through his hits, "Tonight's the Night (Gonna be Allright)", and eneded with "Do Ya Think I'm Sexy".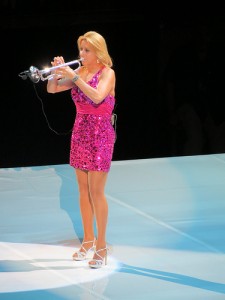 A surprising number of his songs are covers, don't matter.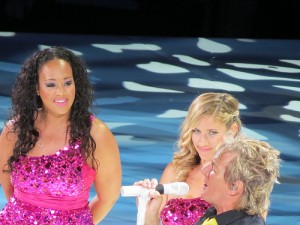 His backup singers were pretty good, and also had short dresses.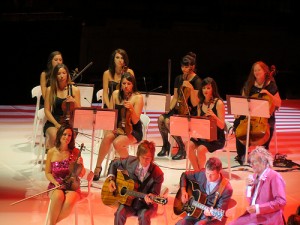 He brought the Tulsa Strings out to accompany on a few songs. A nice local touch.
This being Oklahoma and all somebody threw their hat on stage. Mr. Stewart wore it, cooties and all.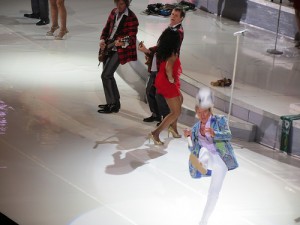 He is getting kind of old also but he kicked a bunch of soccer balls into the stands. He is good at it.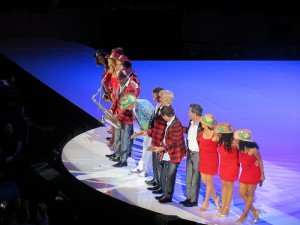 A great time was had by all!!