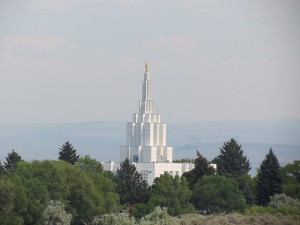 The Idaho Falls Idaho Temple is located right on the east bank of the Snake River in Idaho Falls, Idaho. It is a beautiful gleaming white structure constructed of reinforced concrete. The exterior is covered with a cast stone of quartz aggregate and white cement which gives it the bright white appearance.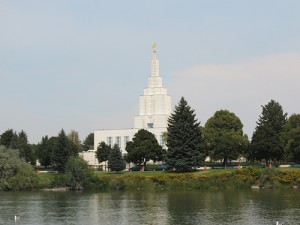 It is owned by the Church of Jesus Christ of Latter Day Saints (the "Mormons").
Construction was started in 1939. Completion was delayed by World War II and the building was dedicated in 1945. It was the first Temple in Idaho, and only the tenth ever constructed. The church now has 138 worldwide. It was the first Temple built with a single spire design.
I'm going to venture off and display my architectural ignorance and say that the church has a vaguely art deco design. Given that, the building was inspired by a vision of an ancient Nephite temple by architect John Fetzer, Sr., who had prayed for guidance.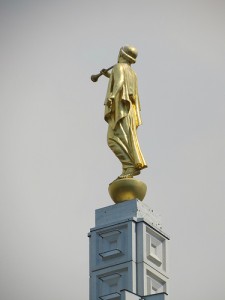 The Temple spire is topped by a statue of the Angel Moroni.
Temples are not used as churches for regular worship. They are considered to be a house of the Lord, and a place to make covenants, receive instructions, and perform special ordinances. After dedication, they are open only to members of the faith in good standing. Before dedication they are open for a few days to the public. This is called "Open House." I toured the Oklahoma City Temple in 2000 during its Open House. I was very impressed with the building and the care that went into its construction.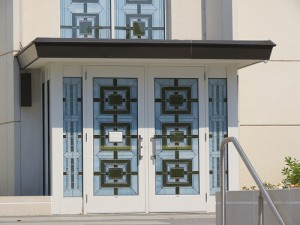 Although the Temple itself is not open to the public there is an adjacent visitor center. We were on a family walk up and down the river so we didn't go through the visitor center or view the adjacent gardens and water features. (We missed out!)