All of the Yogi's went downtown last week to see the Addams Family touring production at the Performing Arts Center. If you are a Baby Boomer of a certain age surely you remember the Addams Family on television.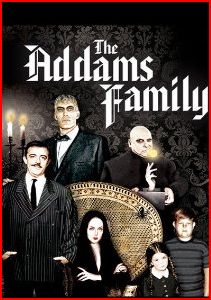 All the characters are in the musical: Morticia (with lots more cleavage than on television), Gomez, the dad, the lovable siblings Pugsley and Wednesday (who is not the little girl she was on television), Lurch, and Grandma.
This musical is not about the songs which are not that great, it is about the comedy. It really is funny and much of it is PG13 as is the language. SuperPizzaBoy kept leaning over alternating between, "I don't get." to "Did he say what I thought he said."
Overall it was a well done show. It's not like I'll not be following it from town to town though. It is a three star out of five production to me.
I didn't know it until recently but the Addams Family television show was loosely based on the New Yorker cartoonist Charles Addams' work. The show had a display of some of his cartoons. So that was interesting.