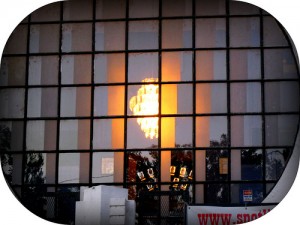 The Spotlight Theater is an attractive (it could use some paint) art deco building, designed by Bruce Goff, from the 1920's situated on Riverside Drive just across the street from the River Parks. In all the years I have been running I have never seen the lights on. Not because the building is abandoned but because they are open only on the weekends. One day last Fall though people were there and the lights were on.
The theater has hosted "The Drunkard" every Saturday night since 1953. Supposedly it is the longest running play in America according to their web site.
Check out Tasha Does Tulsa for her report on the Spotlight Theater.