I don't normally post about sports much, especially college football. But I heard something on the beach last month in Gulf Shores, Alabama that presaged the news about Texas A&M University leaving the Big 12 Conference for the Southeast Conference.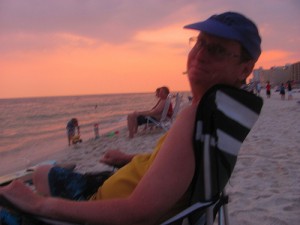 You see I was hanging out on the beach, engaging in my favorite sport of listening in on other people's conversations. My favorite eavesdropping is mother-daughter fights, second is spousal spatting.
Nothing like that was going on but there was a guy, maybe a decade younger than me who was talking to some college age guys. He was trying to be all cool and that. What is it about guys that think that when they are fat and forties that somehow the'll get mistaken for 19 and cool? Yeah, I don't know either.
Anyways, he asked the guys if they were in college and they said yes, most attending the University of Alabama and a few from Louisiana State University ("LSU"). Oh, my guy thought that was great. He said those were fine schools.
He informed them that his daddy went to Tulane University. He said that his daddy regretted that his entire life. He said that Tulane was a fine university and all that but where he really wanted to go was LSU. He made the mistake of putting academics over football and his daddy thought that was the biggest mistake he ever made.
"You see guys", my friend told the college men, academics is great but when you tell people that you went to a great football school like LSU or Alabama, either one, people look up to you. They give you a more regard than if you went somewhere like Tulane. I mean, nothing wrong with Tulane mind you, but it is not anything special, not like LSU or Alabama.
He explained that when it came time to pick a college his family had moved from New Orleans to Houston. He said that at the time Texas A&M University was an up and coming football school. He told them, "You know, I thought I had it figured out. The A&M alumni, can raise the money like nobody's business. You know it takes a huge amount of money to be competitive at football. I thought I would follow the money."
Then he said, "You know guys, it just hasn't worked out like I thought it would." They have never really moved up into the big time. They just haven't got it done. And you know it has cost me, they only people that ever get excited about me going to A&M is other Aggies. Others just don't seem to care, I don't get that look of respect in people's eyes like an Alabama or an LSU man. If anything, they smile and ask if I grew up on a farm and then they start telling Aggie jokes. You know, some of my fellow Aggies love Aggie jokes but I don't see what is so great about being the butt of everybody's jokes. No sir, it just hasn't worked out like I thought it would."
"And you know something else guys, the thing that really surprised me is that the Big 12 Conference hasn't really dominated. They don't have the respect like the Southeast Conference has. I mean the Southeast Conference is powerful every year, they are a force to be reckoned with. And so A&M at best is a second tier team in a second tier conference. That's not good guys."
"I mean they have Texas and Oklahoma and all that but those teams are living on past glory. They are not consistent. I mean Darrell Royal and Bud Wilkinson are long gone. There is nothing wrong with those schools, mind you guys, but they are not consistent. They do well for a little while but they fade."
"I'll tell you one thing guys, LSU and Alabama may not win National Championship games every year, but they would never lose to a glorified NAIA team like Boise State in a National Championship. Nope, you will never see them bite down hard on a sucker play like OU did on the last play of the game and blow it all on National Television in front of the whole dad burned world."
"So I'm proud of you guys, school can be hard but you have to stick it through to the end. Get your degree and you'll see what I'm talking about. LSU and Alabama men are respected because they come from great football teams. It hasn't quite worked out for me. I'm not complaining but I think things would have worked out better for me if I had gone to the schools you guys are going to."
Hey dear readers, don't blame me, I'm just reporting the facts.