I just had a birthday recently. Actually my birthdays are more of a process than an event cuz I get 58 days of birthday. Who says? I say, birthdays are too important for just one day. Don't you think?
My latest version started a little early. I had a day off so I helped Sweetie set up the book fair at SuperPizzaBoy's school. I love school book fairs.
Later on I took SPB and his friend Jake geocaching. Jake found his very first geocache ever. Aren't you proud.
Then later on we left SPB with the world's great MIL, Nana and Sweetie and I went to the Brady District just north of downtown Tulsa for the "First Friday Art Crawl." Boy did we see lots of stuff and lots of people. The place was crawling with people. It is the cool thing to do.
We saw people not like how our regular crowd. Lots of artistic types. There might have even been some Democrats that snuck in to Oklahoma despite the embargo.

We went to a glass blowing school. They were involved in some heavy duty glass blowing. They had two furnaces going. I could relate to this as they burning natural gas. Burn Baby Burn is what I say. Burn that gas. The Fricking Frackers need the price of gas to be higher than what it is. I didn't see any Fricking Frackers at the Art Crawl. I did see another Gas Pipeline guy. We marveled at our mutual coolness of being there. There is no use being cool if somebody else doesn't know it right? It is kind of embarrassing trying to be cool isn't it? But now we can style it like, "My wife dragged me down to the Art Crawl and I saw Bruce there trying to be all cool and everything." Cuz part of being cool is being slightly dismissive of all the strivers out there. You with me?
We went to the Living Arts Center and we saw some young women going Circus Soleil on us. It was pretty wild. I'm not sure what you call it but I can tell you that I was impressed.
They had a bunch of artistic chandeliers on display. This one was my favorite. A chandelier with goldfish inside. Don't go all PETA on me, I'm just reporting I saw.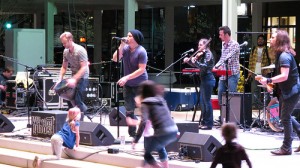 We saw some music also. This group is We the Ghost. I kind of liked them. The venue is "Guthrie Green." Basically built by an Oklahoma Oilman, George Kaiser, in honor of Woody Guthrie. Don't you think that has a lot of Okies twirling around. Guthrie is not somebody that the Tea Party brand of Okies likes. Oh well.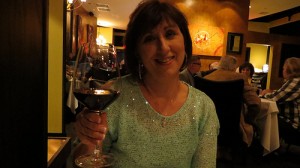 We had a dinner that night also. Sweetie took me to a really nice place, Pryhme Steakhouse right in the Brady District. We had dry aged beef and it was great!. Good thing we talked to our banker before we left. Nice dinner but we'll be paying the second mortgage off for some time I'm afraid.
I showed you the good pic first, then me. Note the tie. That's my psychological ploy to keep you from noticing the lack of hair.
I did pretty well picking a wife didn't I? Poor Sweetie though.
Still with me? Hey I said my birthday is a process right. Keep at it, we're almost done. Next day we went to Tulsa's Woodward Park to stroll around. We like the Linnaeus Gardens there. You might notice that SPB is now both taller and outweighs me. I can still take him though!

They have a lot of stuff packed into a small space.
The area is popular for photography. I just love stealing pics. I mean they send the photons to me, I'm just capturing what would be wasted otherwise right?
I found some blue nuns there also.
Later on after dinner at a nice place we opened gifts. I love my new tee shirt from Nana.
And had a birthday cake, not near enough candles, also notice the small part taken out for sampling.
Here's Nana, the world's great MIL. She spoils me, she really does. She certainly doesn't give me what I deserve. Take that how you wish.
Son, SPB, he is great to have around on Birthdays.
Thanks Sweetie, I'm having a great Birthday. What are doing the other 56 days?