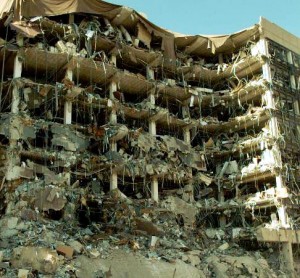 I was at work in the Oxy Building in downtown Tulsa when I heard the news about the bombing. I went downstairs to the cafeteria and watched the video. I remember it was all very confusing and nobody knew what happened or why. People didn't know if it was natural gas explosion or just what. There was a lot of speculation that it was middle eastern terrorists striking in the heartland.
We had a couple of customers come in from Oklahoma City for a meeting. They worked several miles north of downtown Oklahoma City. They said that they could feel the boom in their office but they didn't know what it was.
What a shock when we learned that it was fellow citizens that murdered so many people. The chief of coward's advice to survivors of the murdered victims before he was executed years later was "get over it."
A few days later I talked to another customer who worked just a few blocks from the Murrah Building. He talked how it blew out the windows of the downtown YMCA and injured children who were in the day care. He helped get the children out of the Y.
Sweetie and I went down a few weeks later to the site. What got me was the damage to the surrounding buildings.
It drove home to me the mayhem, violence, and chaos that can result from the power of morons.
I feel the same dread now, that I felt then. The political atmosphere is very similar. I know several people who think very strongly that the country is not on the right track and not a one of them I know would harm anybody and I will defend forever their right to express their opinions. But with freedom comes responsibility and when I see facebook comments such as, "where is Lee Harvey Oswald when you need him" I get very concerned. There is always a fringe group of morons out there who will act on things and they can cause great destruction.
So my prayer is not that people will suddenly make themselves happy with the present political situation. I pray that they will express themselves responsibly and keep faith in our democratic values and institutions and remember the weak minded out there such as the Murrah building murderers who had trouble distinguishing right from wrong. Words do have power.
It has been a long time since I've been to the Bombing Memorial. It was done exactly right.
I'm participating in a meme this week sponsored by the "Real Housewives of Oklahoma." The theme of the meme this week is "Where Were You on April 19, 1995." Go check out the Housewives. They are definitely real.