Saturday bright and early I got up and headed to the Osage Hills northwest of Tulsa to participate in the Post Oak Lodge Challenge 10K. When I got there I fell in love.
With this fireplace and a very comfortable leather chair. It's a real fire. We have a gas fire at home and it is all nice and everything but nothing puts out a nice glowing warm heat like a real wood fire.
So I sat there napping off and on as they prepped the 25Kers on following the green ribbon.
And then I sat there during the prep for the 10Kers. We were supposed to follow the pink ribbons. You see.
And then the moment of decision. To I get up out of MY chair and go run the race or just kind nap some more. You like my hat, you think its funny. Hey it was 30 deg at race time and I was warm. So laugh all you want you cold eared people.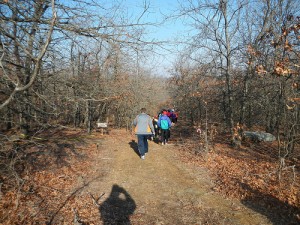 So off we go!! Following the pink ribbons. The Shadow knows.
The aid stations were fantabulous, water, gatorade, pb&j sandwiches, chips, homemade cookies, salted potatoes. Wonderful. The Shadow also knows this.
We've had a little bit of rain so it was nice to see the creeks flowing again. We had a little bit of mud but not to bad.
We took a turn through the Oklahoma Centennial Botanical Gardens.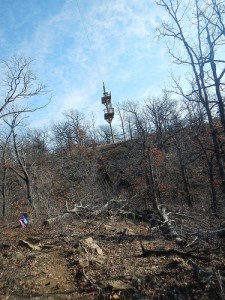 And we went by the Post Lodge's Zip lines. At least that is the cover story. The real deal is that Oklahoma has erected these watch towers to keep Democrats out of the state. They are also a last line of defense to keep those pesky Canadians who are enslaved by the national healthcare system out of our state. Rumor has it that they are massed at the border trying to get in.We are ready for them.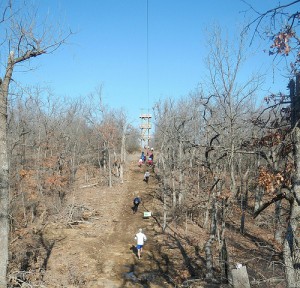 The thing about trail runs is that the good ones are have lots of ups and downs. This was a good one.
I finally got to the top of the Hill from Hell. Holmes Peak is the tallest point in Tulsa County. You can see a long ways.
Way over yonder (as we say in Oklahoma) where the cars are is the start and end of the race.
Heading down the Hill from Hell. . That is downtown Tulsa off in the distance.
This race had a beer stop. They said, "Want a beer?" and I said "Do you have any other stupid questions?"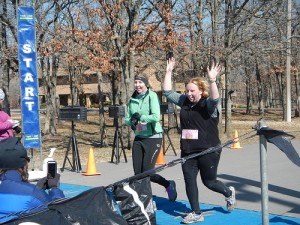 The finish line!! Yeah we are done!!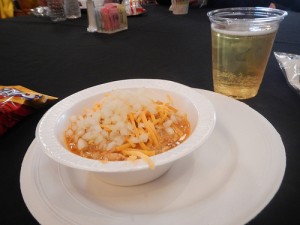 Lots of food and adult malted beverages available. This is some white chicken chili.
And then back to my spot. If you happen to be up at the lodge anytime soon. Make sure nobody is sitting there, cuz its mine. You can sit there if you want, just don't get too comfortable.
It was a great race, well organized and everybody had lots of fun.

I had my GPS watch on. If you want to see the route click on the green balloon above and it will take you to another screen. Click on the thing that looks like your DVD "Play" button to the left and it will show you just how slow I am.