Saturday morning I got up early and traveled up to the Post Oak Lodge in the Osage hills northwest of Tulsa to run the 10k segment of the Post Oak Lodge Trail Challenge. Usually there are some pretty good vistas to be had but Saturday it was overcast and misty.
They had something for everybody. The ASPCA was out there for a 1.3 mile "dog jog."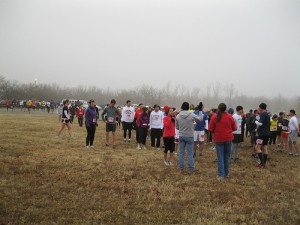 The 10kers assembled in a field and off we went.
We ran through fields and woods and hopped across small streams.
This being Oklahoma we ran by oil wells and tank batteries.
I met running, geocaching, and blogging friend Trail Zombie at one of the aid stations.
In addition to being one of the nicest guys a person could know he is an ultra runner. He runs, and finishes races that upwards of 100 miles or more. Oh, and word of warning. If you are thinking about dumping trash on or vandalizing any areas where he runs, his smile quickly turns into a frown. Saturday, he provided me with a an adult malted sports beverage to revive myself.
You see I had just run to the top of Holmes Peak and needed a little reviving (all of you mountain state people please hold your snorts of derision. That hill kicked my butt.)
After finishing my sports beverage I headed on. Maybe the sports beverage wasn't that great an idea. About a half mile later I tripped on a rock and took my first trail run spill. It came as a great surprise and knocked the air out of me. Unfortunately I didn't even get any scrapes or bruises (except to my ego) to elicit any sympathy out of anybody.
So I finished and got my participant medal.
You can tell from all the mud on me that I had a great time.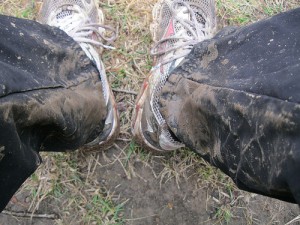 The thing about running trail racing is that they give me energy. Here I am, the life of the party, at a gathering of family and friends that evening.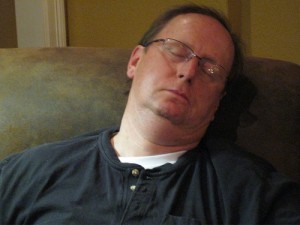 Please check out That's My World.