Last week Sweetie and I celebrated our 20th Anniversary. One thing we did to celebrate was spend an afternoon at the Philbrook Museum of Art. We started with lunch in their restaurant, la Villa. It's a very nice little lunch spot with a light menu. We each had the Grilled Chicken Salad. It was very nice. It was almost too pretty to eat. Sorry for the blurry photograph.
We then toured the museum. They had an exhibition titled "Auspicious Vision – Edward Wales Root and American Modernism." It was pretty interesting in that it showed how American artists moved from Early Modernism (like Impressionism) to Total Abstraction like Jackson Pollack. I'm not going to pretend that I "get it" or even halfway understand it but I enjoyed the exhibit.
Then we toured the rest of the museum. I had enquired about the rules for photography. They said that the use of personal cameras was allowed, without a flash, in the entire exhibit except for the Auspicious Vision exhibit. So I took some photographs.
This is my favorite. I call it the "little arms" statue. There is nothing quite like little arms around your neck!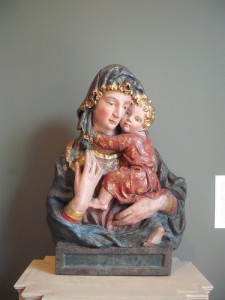 Those of you with little ones, especially little boys, enjoy this phase. When they get to be 11 and think that passing gas is funny, you still love'em, but things are not quite the same.
They had a Thomas Moran work or two. (uh, he's a lot better painter than I am a photographer.)
They have a collection of objects entitled "Better Living by Design" from the George R. Kravis II Collection. Lots of everyday items, including a couple of ipods.
Some art from the Southwest.
Just as nice as the Museum gallerys are the grounds of Philbrook.
They have extensive plantings and very nice landscaping including water features.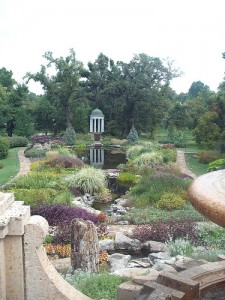 One area had quite a collection of vegetables planted. Okra, squash, eggplant, and tomato. It turns out that they could not afford to plant about 3600 square feet of beds because of the economic downturn. So they turned the space over to a local food bank who was growing the vegetables. Man what a guilt trip for the donors! Really, I think that it is a nice program
Anyway, we had to leave to go pick SuperPizzaBoy from school.
Visiting Philbrook is a great way to spend an afternoon.
For other sights from around the world check out That's My World.