SuperPizzaBoy and I went on a geocaching expedition to Mohawk Park Saturday. It was as pretty a January day as you will find in Oklahoma. Oklahoma can get very cold but usually after a front comes through the sun will come out and warm things up into the 50's or 60's. Perfect for being outdoors. Plus the fall and winter are the perfect times for geocaching. No snakes, chiggers, ticks, mosquitos, nor poison ivy plus the vegetation is knocked back so it is easier to get around.
We tried to find a couple of caches in Mohawk proper but the trail we were trying to use was still blocked with dead limbs from the ice storm last year. It was pretty slow going. We could have bushwhacked from a road but SPB doesn't like going through tall grass. One thing I've learned geocaching is that sometimes its ok to plug and abandon a cache. As of this morning there are 715,008 caches worldwide and we have found only about 739 of them, so there is always another cache to find.
Before I get too far down the road a few commenters have asked what geocaching is. I'll use the definition on the front page of the geocaching.com web site:
"Geocaching is a high-tech treasure hunting game played throughout the world by adventure seekers equipped with GPS devices. The basic idea is to locate hidden containers, called geocaches, outdoors and then share your experiences online. Geocaching is enjoyed by people from all age groups, with a strong sense of community and support for the environment."
Basically people hide containers out in the world. They use a GPS ("Global Positioning System") receiver to determine the longtitude and latitude of the containers and then get on the geocaching.com web site and create a web page for the cache with the coordinates and some wordage about what to look for. The containers have to contain at least a log for people to write on and maybe a few toys or trinkets to trade.
Then, other people look up the cache page, get the coordinates, put them in their own gps and then go look for them. When they find them, they write their names and dates on the paper log (that proves that they have been there) and maybe trade a trinket. (The rule on trinket is that you trade something at least as good as what you take.)
Then when you get home. You go back to the web page for the cache and post a log online.
It doesn't cost anything to get an account at geocaching.com. You can create an acccount, using minimal personal information, and start looking at caches. You put in your zip code and it will give you a list of caches and a map. For $35 per year you can get a premium membership which gives you better mapping capabilities and enables you to download directly into your gps (if you have the right gps, cables and software) massive numbers of caches (I can do 2000 at a time).
As far as equipment goes. You can get a nice Garmin GPS for about $70 on sale at Walmart or Academy or I bought a used one for $35 on ebay. There is a hardcore subgenre of geocachers who find the caches without a GPS using topographic maps. I'm not hardcore.
Its a lot of fun. SPB and I have found caches all over town. We have been down most of the roads in this area. Most state parks have lots of caches. I almost always find caches when I'm on business trips. They are all over. There may be a thousand in Tulsa County. People are adding caches all the time.
Its fun hiding caches also. SPB and I have hidden 24. It is fun reading peoples comments when they find them. This morning I read the following comment from somebody (the OxFoxes) who found our Boys Night Out – City Center cache.
"This was a fun hunt.
I literally opened up the cover on that old phone box with a screwdriver to make sure THAT wasn't the cache. (That old thing isn't ever going to work again, but I put it back together the way I found it anyway.) I also went up on TOP to see if there was something up there that looked like a cache. It looked like a LONG drop from up there, with no protective rail.
While I was looking for the cache, the First Presbyterian Church across the street began to peal out Christmas carols and hymns on their chimes. It went on for half an hour. It added an interesting air to my cache hunts downtown for awhile.
Once I figured out where the cache was, I wasn't sure how I was going to GET it. Fortunately I had a very long ice scraper in the car that did the trick. Fortunately, there weren't any muggles around on a Saturday night to watch my antics trying to retrieve and replace the cache.
This was a really clever hide. I enjoyed it, and the ingenuity that went into hiding it.
Thanks for the cache!"
A nice comment like that makes my day. (hint, hint, you lurkers out there!)
Now back to our trip to Mowhawk Park. We struck out in the Mowhawk Park proper so we went to Oxley Nature Center. Our first find of the day was The Enormous Cottonwoods of Bird Creek. There we hid a travel bug in the cache. A travel bug is a little side game to geocaching. Items are tagged with an aluminum marker with a unique ID. The travel bug is moved from cache to cache and the owner of the tb can monitor its movements. SPB and I have several travel bugs. One is somewhere in Germany now. So I get logs that I can't read. The tb we dropped off yesterday is not one of ours we picked it up somewhere else. Its considered bad manners to hold on to them too long. The travel bug below is named Wish it, Dream it, Do it and has traveled 1832.9 miles. Click on the link to see where it has been.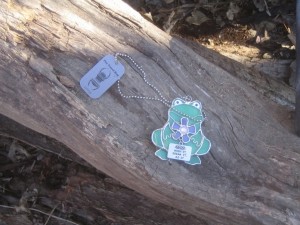 We found another one at Oxley yesterday. I'll show you the picture but not the name of it. It took me an hour to find it. It was about 50 feet off the posted coordinates. You go spend an hour looking for it to! Sorry to be so mean spirited, but that is the way I am.
Here is a picture from the site where a cache is supposed to be located. We didn't find it. You go look for it, let me know if you find it. It is at the site of a an old farm that John Denver's uncle used to farm, the cache owner claims. It is called
Once There was a Farm
. I liked the area, trees and a meadow. Can't be better than that.