We drove down to Texas and fetched SuperPizzaBoy from Camp.
His counselors all said that he had a good time, behaved himself, and made lots of friends.
SPB said his fellow campers in his cabin were wild and unruly. Imagine that, high school kids acting up. Never heard of that myself. You?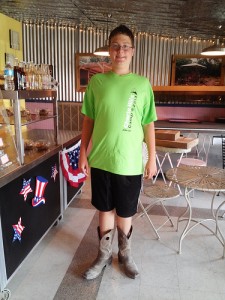 This was the look he rocked most of the week. He was in Texas after all. When I lived in Houston years ago my next door neighbor wore cowboy boots with his shorts all the time.
Sweetie, being the great "boys mom" that she is waited until SPB was in the car before she kissed him.

I think that he had a great time but was sure glad to get home.

We've been traveling a lot this summer. To Texas for a convention, to Alabama for our beach vacation, Idaho for a family reunion, and then camp. I'm ready to stay around home a few days.