Yogi here with a Christmas report from Oklahoma
It was dry, sunny, and warm!! You can have your White Christmases, you really can. For me I like the warm sun.
Christmas Eve we spent at Nana's house. Here is mother and daughter. I like that dynamic flip in Sweetie's hair.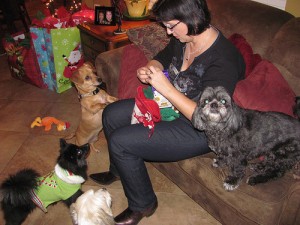 We brought our three mutts to mix and mingle with Nana's two mutts. It was mutt mania Christmas Eve especially when Sweetie broke out the treats.
After an excellent meal of tacos and tamales courtesy of Nana and a nice long relaxed visit, we went home and watched "A Christmas Story" in our jammies. SuperPizzaBoy loves that movie and laughs hard. It's fun watching him. Sorry, no pj photos folks. I don't think SuperPizzaBoy would mind, Sweetie would. Anyway, after the movie he went off to bed and then Santa came (wink, wink, to all the parents out there). Santa ate the two gingerbread cookies and was nice enough to leave a note.
Next morning, coffee and more gingerbread cookies. I know I said no pj pcs, but you know I lie a lot. You can tell when I'm lying. If my lips are moving, I'm lying.
Nana and I showing off our favorite gifts, hand knitted scarves from Sweetie.
Ginger, got a hedgehog. Notice the wild eyed neurotic look. The hedgehog never did give her any milk, and Ginger tried all day long.
Nana gave me two cameras, a special fisheye film camera on the right, and an old Kodak Brownie on the right. She gave me some 120 film for the Brownie, the shutter worked, I cleaned up the lens as best I could and snapped a few pics outside. If I can find a place to process the film, and if there are pics halfway presentable I'll share them. The fisheye camera will be interesting I know the flash is powerful. I took a pic of Sweetie and she reeled. I think I could stop the Russian Army with the flash. It is powerful.
Sweetie worked hard preparing a variety of tasty dishes, I smoked some chicken quarters and a turkey breast and we ate very well. We had a coworker of mine who joined us. It's always nice to have somebody join our foursome.
We missed being with the rest of my family who gathered at my Sister's house in Colorado Springs.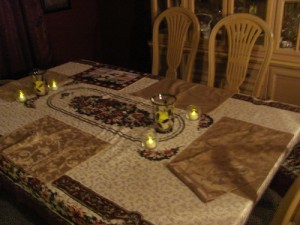 And now, the dishes are picked up and cleaned up and we are resting.
I hope that you and your family had a great Christmas!