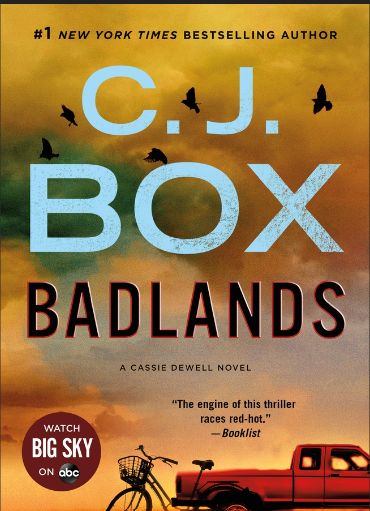 I received an advanced readers copy of the paperback version of Badlands, by C.J. Box. Ironically, I was reading a hardback copy from the library of the same novel.
This book features Cassie Dewell, a brand new Deputy Sheriff in Grimstad, North Dakota. Right in the middle of the Bakken Field, one of the biggest oil plays in history. Grimstad is a boom town. Housing is short, Walmart doesn't have time to shelve their goods, they just put boxes in the middle of the aisle and let the customers paw through them for what they need.
Grimstad is an oilfield town with drillers and pipeliners working long days. It is also a town where a gang from California wants in on the local drug business and they are ruthlessly getting rid of the competition. Cassie's job is find out what is going on.
Grimstad is also home to young Kyle Westergaard. A "slow" boy who delivers papers to help his mom out. During one of his paper runs early in the morning Kyle witnesses something he shouldn't have and takes something that gets him in trouble as the gang is after him now. Cassie Dewell has to fight the Sheriff's Department and the gangs to save Kyle and his mother.
I loved this book. It came out in 2015 when the Bakken was at its peak in oil activity and the cities and towns did not have the infrastructure and it was kind of a zoo. Box doesn't exaggerate the burden the activity put on the town and portrays accurately the crews who did the well drilling, fracking, and laid pipelines. I strongly recommend this book.