I had a day off today. I had it all to myself because Heather went off to an Autism Conference in Norman, Oklahoma and Logan had to go to school. So I kissed Heather goodbye at 6 am and made the kid breakfast and made sure that he was dressed and ready to go and off we went to his school. After I dropped him off I headed up to Tulsa's Oxley Nature Center. Turkey Mountain gets all the press, and the people, but Oxley is a gem also and its North Woods Loop Trail is wonderful and deserted. In all the years I have been going there I have seen somebody else there once. I love Turkey Mountain, but the problem is so does everybody else.
And this was my first trail run since my injury on Turkey Mountain back in September. I wanted somewhere that was flat with no rocks. Oxley fits the bill. Plus it is just flat out beautiful. Turkey Mountain will always be my favorite but Oxley is my go to place when I don't want to deal with rocks and and hills, and lots of people.
I got there about eight in the morning and I have to tell you that I saw lots of deer. I didn't get a single photo of them. I saw them running through the brush, swimming across lakes and bounding around all over the place. You will just have to take my word for it.
Here is the data on my so called run. I ran quite a bit and walked quite a bit. I went looking for two geocaches and found one.  After my jaunt at Oxley I went home, cleaned up, and headed up to Tulsa's Philbrook Museum. They have an Andy Warhol exhibit going on and I felt ah, well, so what until I actually looked at it and saw a bunch of art that I had only seen in magazines. Warhol's screen prints of Marilyn Monroe, Mao Tse Tung, and John Wayne plus a bunch of other works. It was amazing. I always thought of Warhol has a lightweight celebrity artist but I've changed my mind. They didn't allow any photography of the exhibit so you will just have to check out the link to see for yourself.
After Warhol, I checked out the gardens of Philbrook. I don't know what I like better, the gardens of Philbrook or its art.  Don't make me choose is all I can say. The Tempietto above is the prettiest thing I've ever seen.
Villa Philbrook, the heart of the museum, used to be a house. Not for me is what I say.
Eric Baker's glass and steel installation, Oklahoma Autumn, is my favorite work in the gardens.
I was also taken by Theordore Van Soelen and his Tesuque (Dark Houses). You see my folks were living at the Tesuque Ranger Station when I was born. That was in the day before health insurance so Dad called the hospital's in Santa Fe and Espanola, New Mexico and got bids on getting a baby birthed. Espanola won. It cost like $95 or something like that. I'm not like Ben Carson who is running for president so just take my word for it.
I love the pottery from Acoma Pueblo.
And the black on black pottery of Maria Marinez is wonderful.
And here is something different. A catlinite pipe inlaid with lead. I'm not sure that smoking with that would be good for you. It sure looks like though.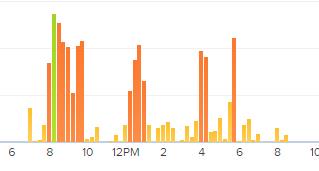 So a pretty active day for me, so far about 18,800 steps or over nine miles. Not bad for a guy with a bum knee.  Actually they are both sore right now.
I didn't hear about the news from Paris until pretty late in the day. How sad. I really don't know what the answer is to radical Islam. They seem to have no regard for life.