On June 9 a couple weeks ago the cool people had taken over Main Street in Broken Arrow, Oklahoma.
They were checking out the city's Chalk It Up Art Festival. For twenty bucks artists could register and get your own sizable chunk of asphalt to show your stuff.
I just happened upon it toward the end of the affair. They were all done when I got there, 15 minutes later they opened up the street and the art degraded rapidly. Not a good way to treat works of art. So to me it was kind of like reverse graffiti.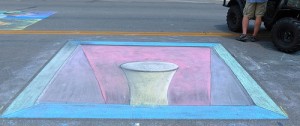 Oh well, what do you want for $20? Posterity costs money. I love the above for the 3D effect. Please note that I cheated on these photos. I used the "Enhance" function on the Aviary online photo editor to bring the colors out more. Do you still like me? Oh, you never did like me! Full disclosure is fun isn't it?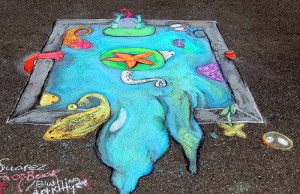 I liked the colorful sea theme above. Reminds me of Destin, Florida.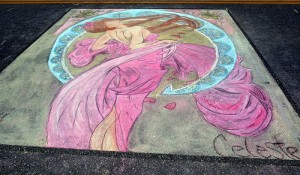 I liked this one also, big butt and all.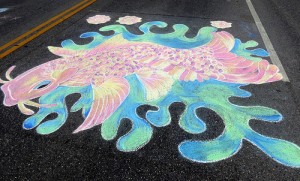 Another fish theme, a koi I think.
Now a trout.
I really liked this one also, even though it wasn't a fish theme. The thing I wonder though is, well I hate to bring it up, but am I the only one that noticed that the lady is nekkid? What is up with that Punk Pixies Designs? Goes to show you that despite what you may have heard, Broken Arrow is hotbed of Democratic Liberal Socialism. Tell you what, if Mitt were President, he'd be out in the street himself chalking on a good sturdy Republican brassiere on that lady.
This is popular also, the Oklahoma City Thunder is the toast of the State right now. Even Tulsa has choked down their jealousy of Oklahoma City for now to enjoy the Thunder's run to the NBA Finals.
So, sorry, no graffiti this week. Street Art is a close cousin, okay not really butI hope that you don't think I misled you.