I was in Oklahoma City late last month at a conference. I took a few pics of the Christmas Lights on Automobile Alley. The area also has several great old school neon signs.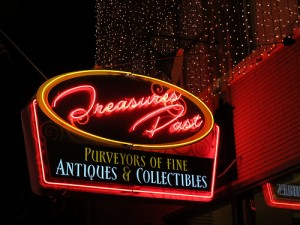 Not only old school signs but old school businesses. Nice to see an urban restoration without Old Navy or Kohls.
This is my favorite. I love the big long looping glass coils that make up the image.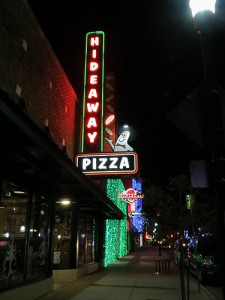 This probably isn't really neon, but what the heck it is a great regional chain and the pizza is wonderful. I recommend the barbecue chicken pizza. It's delish. They also have a great gluten free crust available.

Have you seen any good signs lately? Do you have a good pizza joint? I'm needing to know stuff like that?

Hey also, any instagrammers out there? Have you cancelled your account yet? I sure have. I think this may go down as a MBA case study on how to destroy a business one day. Or maybe they'll back off a little and this will all blow over. Any good alternatives out there? I'm suffering mightily from Instagram withdrawal. Don't judge me if I go crawling back! I am not worried about the privacy concerns. I mean if you want things to be private don't be uploading it to the internet, right, duh. I'm concerned on how they are going to use my poorly lit, out of focus, photos of my new shoes.