Fall is here it is time for SuperPizzaBoy's school to have their annual hayride.

They found a place way out in the woods. No bars out here, literally, no updates, no nothing, whazzup with that?
You can update your status with one of the camp dogs. Friendliest critters you've ever met.
Warm up around the fire.
Go feed the goats. Hungry little buggers.
Play some volleyball maybe?
How about some high spirited boys?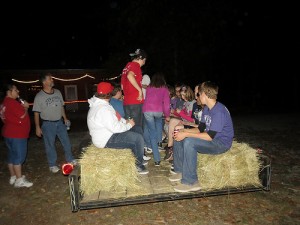 Load up, everybody face in, don't get in or out, no horseplay!! Adults have been making and kids breaking rules forever.
After a dinner of dogs and chili, try out some smores. Everybody has their own technique. Mine is the best. No, make your own!!
Time for some spooky stories!!
Time to clean up and go home. Another hayride on the books.