We had a visitor to our backyard land on son's trampoline. It was checking out the action at the bird feeder. The birds were all gone. There was the only critter at the feeder. He didn't move a muscle.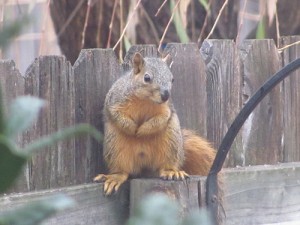 I don't think he was fooling anybody though. The hawk took off and did a fly by on the squirrel and left. My fully automatic camera helpfully focussed on the branches.
I'm not at all a bird guy but I think that it may be a Sharp Shinned Hawk. It was very small and has a square tail. Don't be afraid to offer a correction. I'm still trying to learn these critters. Wife Sweetie tells me that the squirrel is a fox squirrel. We have lots of them visit the feeder.