On Sunday, son Logan and I went for a walk on Tulsa's Turkey Mountain. I had run a race the day before so I just wanted so get out and stretch my legs a little bit. Something called a "recovery walk" or a "recovery run" except I was not running.
Turkey Mountain has a few double track miles of trails but most of it is single track. Once we got a quarter mile away from the parking lot, we had the place to ourselves.
The air was just barely warm, and dry, and the skies were deep blue.
The just barely changed leaves were almost fluorescent with the sun shining through them.
The grasses are just now turning color.
Here is a track of our journey. We stayed on the "Snake Trail" not because of snakes but because the trail folds back on itself.
I'm running a 25K race this coming weekend on Turkey Mountain, the TurkeynTaturs 25K. We'll be running the Snake Trail and just about all the other trails on Turkey Mountain as well. I'lve pretty much run them all. I plan on taking my time and trotting the non-rocky flats and downhill segments and walking through the rocks and uphills.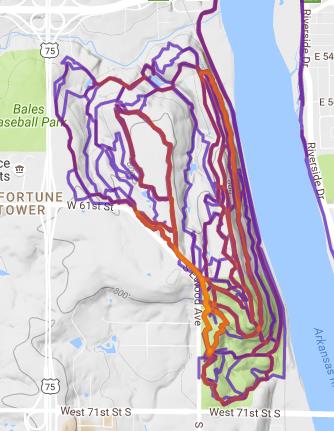 This is a cumulative "heat map" showing all the trails I had run as of several months ago. As you can see I run a lot on Turkey Mountain. I love it and the race Saturday will be a tour of all of it.
Wish me luck!! It will be the longest race that I have run since 1997 when I ran the Madison Marathon in Wisconsin.
I'm linking with Skywatch Friday