"UNTO Almighty God we commend the soul of our
brother departed, and we commit his body to the
ground; earth to earth, ashes to ashes, dust to dust; in sure
and certain hope of the Resurrection unto eternal life,
through our Lord Jesus Christ; at whose coming in glorious
majesty to judge the world, the earth and the sea shall give
up their dead; and the corruptible bodies of those who
sleep in him shall be changed, and made like unto his own
glorious body; according to the mighty working whereby
he is able to subdue all things unto himself."
(1928 Book of Common Prayer, Prayer for the Dead) Link
One of the most fruitless searches on the internet is people looking for the Bible verse that incorporates "dust to dust". It is not in the Bible. It is in the Episcopal Book of Common Prayer, 1928 edition.
I love cemeteries. I spend a lot of time in them while geocaching and I feel a real deep and abiding peace in them. I love spending time in the small cemetery that my mother is buried in Idaho. She is there with her parents and many of her brothers and sisters and other family and friends.
While there I think about the people as they were when they were alive, not as their earthly remains are now. However there are many people who don't have that luxury. Medical Examiners and Forensic Anthropologists for example.
Many of our fellow humans are killed violently and their bodies hidden or disposed of by their murderers. Sometimes these bodies are not found for a long time. In order to bring the killers to justice it must be determined when the victims died. That is where the professionals come in to do the unthinkable. Examine the weathered remains and try and determine when and how the victims perished.
I got my new issue of Scientific American earlier this week and it is a special issue on "The End." They had an article that blew my mind. It was on a laboratory that studied the degradation and decomposition of human bodies after death. I had to check this out.
The laboratoryis in Tennessee, the Outdoor Research Facility of the University of Tennessee Forensic Anthropology Center that provides research and data to medical examiners trying to figure out when and how people died. Basically the Outdoor Research Facility is several multi acre segments of woods where bodies are left in the woods and then studied as they decay and decompose. They are not only strewn about the woods, there are bodies left inside buildings, buried in the ground, and left in the trunks of cars. I'm not going to show any images here, there are plenty available on the internet if you are interested, but the bodies are completely exposed to the elements and to whatever critters inhabit the woods. The facility is popularly known in law enforcement circles as the "Body Farm."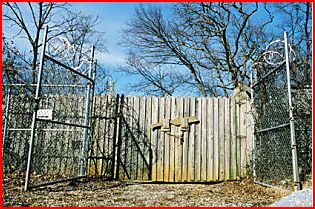 I cannot imagine anything more macabre but the facility has provided a ton of data that helps our law enforcement agencies apprehend and convict criminals. It is the brainchild of Dr. Bill Blass who runs the center. A TruTV profile of him, which includes a tour of the facility is here. There is a darn interesting article on the facility by Alan Bellows on his Damn Interesting web site. (Warning, very graphic photos!)
This is one of the most amazing things I have read about in a long time. If you check out the first link above, you will find that the facility needs bodies, lots of bodies, about 100 bodies a year are donated to them. Of course, if you live more than 200 miles from them you, or your loved ones, will have to arrange transport of your remains to the lab. What got me is that 60% of the donations are "family donations." That is where the family donates the body of a loved one, where the loved one didn't necessarily wish to be donated. Like any good web site, it has links to the documents that you, and two witnesses, need to sign to join the "pre-enrollment list"of about 1300 people who have signed up for the "pre-enrollment" program.
Anyways, such discussions of the disposition of bodies are discomforting to consider but what difference does it make? (Dear wife and family, this is purely a rhetorical question, I don't want my remains dumped out in the woods and strewn about by the various critters who happen to live there nor am I thinking about doing it to anybody else.) Just something to think about.
I have all sorts of questions. What kind of people become Medical Examiners and Forensic Anthropologists? Do you know any? How do you feel about such a laboratory? I have to tell you that it creeps me out although I think it is a brilliant idea. Would you donate your body to such a lab? (not me!) Would you send a loved ones body there?
Related articles by Zemanta