From our recent trip to Idaho.
Canoes make great photographic subjects, interesting shapes, bright colors, and nice reflections.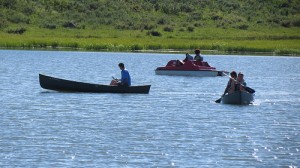 But really they are meant to be used. This is our family flotilla during our recent outing in Idaho.
BIL Irv really looks good by himself in the canoe. He really looks like he know what he is doing.
A little bit later grandson Mr. Beans and my sister Ellen joined them. Notice Irv's technique of sitting in the back and letting the other two do all the work. That is how we guys do it.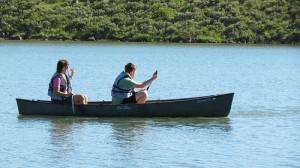 And there is Sweetie and SuperPizzaBoy. I joined them a little later.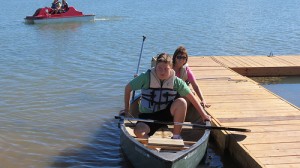 After a stern warning to SuperPizzaBoy to not overturn the canoe. Nothing tickles his funny bone than topping dad into the deep. I had the good camera with me. We paddled around a bit. Of course nobody else had a camera, so you will have to take my word for it.
Nothing like fun on the water in Idaho is there?