(Back side of storm system that developed into the Joplin, Missouri tornado of May 22, 2011, 158 killed)
We have had some bad weather today in Oklahoma. A huge tornado went right through Moore, Oklahoma and as I write this post, there have been 51 confirmed deaths, including 21 children, and a large number of people unaccounted including 24 in an elementary school.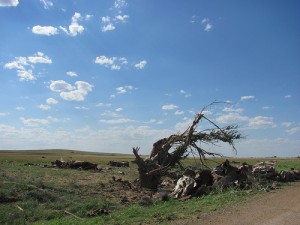 (Canadian County, Oklahoma – aftermath of tornado of May 24, 2011 – 6 killed)
We get a little antsy here in Oklahoma when the weather is warm and humid here in Oklahoma and the winds get a little swirly. There is too much energy in the air. The storms seem to in west Texas in the heat of the afternoon and set out in a roughly northeast direction across Oklahoma. The television stations go nuts with their storm radars and cameras and their weather chasers. It's all very anxiety producing.

(Weatherchaser car, 2012 Chickasha, Oklahoma)
To some it seems to be a sport and lots of fun. I even read reports of tourists paying to ride with tornado chasers. I think they are nuts.

(More Canadian County, Oklahoma tornado aftermath)
We clear out our saferoom and hope and pray for the best. Most of the time nothing happens and we bitch about missing the playoff game, or the last holes of the golf tournament although we are not too serious about it.

(Leedey Tornado Monument, May 31, 1947, seven killed)
Today though, we are not complaining about anything. We are shocked by the loss of life, especially that of children, and hope and pray that that twenty four unaccounted for children at Plaza Towers elementary school made it home.