The Price Tower in Bartlesville, Oklahoma is the only Frank Lloyd Wright skyscraper actually built. Frank Lloyd Wright called it "The Tree that Escaped from the Forest." It was occupied in 1956.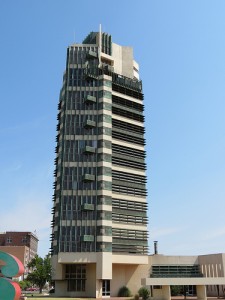 The building is 221 feet tall with nineteen stories. It was conceived as a mult-use building with offices, apartments, and shops. These days it has an Art Center on the ground floor, a hotel, and a restaurant and bar.
The tree metaphor is reflected in its design. It has a very strong central core and the floors are cantilevered from that core. The exterior is not load bearing and consists of copper and glass panels. These are the "leaves" of the tree.
The building has lots of details like window shades and terraces.
The design of the building was recycled from an abandoned 1929 housing project in New York City that was abandoned because of the depression. When the Price Tower opened in the mid 50's many considered its design to be outmoded. What was in fashion at the time was the International Style buildings such as the United Nations building in New York City.
For some reason as a fifth grader in Price, Utah, long before I even knew where Bartlesville, Oklahoma was I read about the Price Tower and was really interested by it. I think I was interested because the name of the building was the name of the town that I lived in.
Fast Forward a dozen or so years and I'm on a job interview trip with Phillips Petroleum Company. The lady from HR is driving me from the hotel to the office. I see the building and said "Is that the Price Tower." She told me she didn't know except that it was supposed to be famous. I about choked and said, "Yeah it's famous, it was designed by Frank Lloyd Wright and it was his only skyscraper." I couldn't hide my dismay that she didn't know about the building. People skills have never been my strong suit. She said, "How does somebody from New Mexico know that?" What I wanted to say was "How does somebody who works in the building's shadow not know it?" I stuffed those words down though. I got a job offer though. I still don't understand people who are not curious about the world around them.
I don't know how useful the building is, but it is beautiful. The copper patina makes it look like a turquoise tower in some light.