Well, I found another old recyclable camera in the house on Labor Day. I was looking for trade trinkets that we were going to plant in a new geocache. It has some exposures left on it so I decided to take it along to document the geocache planting process.

SuperPizzaBoy and Sweetie on the trail. It's about a mile and half hike to the cache site from the nearest parking lot. People who want this cache are going to have to earn it. Many people think I'm crazy but I love the look of film, especially old film, especially old film that is exposed in a camera with a plastic lens. I'm just wild about it. I'm crazy about bad pictures. I really am.
It's been hot here and many of the leaves have fallen off the trees. The temperature was in the 70's though so we were lucky.
Here we are at Ground Zero. The place is called Rock City because, well I think because it has lots of rocks. Of course there are rocks scattered from one end of Turkey Mountain to the other but this area is called Rock City.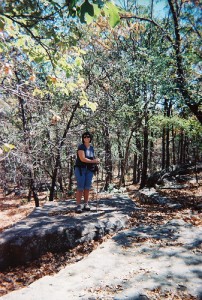 Sweetie is kind of acting like she is mayor of Rock City.
Here is your clue. If you don't have a GPS receiver just walk around until you see that forked stick. The cache is real close. I hate giving it away like that.
Yep, that's me, I saved my biggest widest grin for this pic. I hope you appreciate it. And I know I'm thinning a little on top. I've been warned by the FAA not to take my hat off if I'm within five miles of an airport. Pilots have been blinded by the glare off the ground.
Mission Accomplished! We're all happy, especially SPB. He doesn't understand pointless walks in the woods.
So we went somewhere he could understand.
Next steps? I have forms to fill out for the Tulsa RiverParks Authority that administers the park to get a permit. That in hand I submit the cache to Geocaching.com and hopefully they post it. Could take a week or so. I'll let you know.
Also, when I got the camera developed I found some photographs I took during my Dad's 80th birthday party a few years ago.