The Tulsa Garden Center is a great place. It is a grand old oilman's mansion from the 1920's that now buzzes with activity most days.
I just love this old fireplace in the ballroom.
If you love windows and doors, the garden center is the place for you.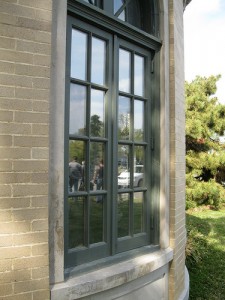 I helped my wife Sweetie set up for a Children's Gardening Class (Little Green Thumbs) held at the Garden Center.
You cannot have a gardening class without "soil." Don't call it dirt, especially at the Garden Center. They will kick you out.
There she is, getting ready.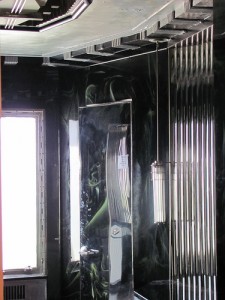 The part I like the best is the art deco streamline design ladies restroom shown above. Don't ask me how I got the photo. I'd have to take the fifth. (Not really, the door was open and I was in the hallway and it was unoccupied. That's my story. Oh, and I didn't open the door either.) If you are saying that it is hard to tell anything from the photo. It is that way live and in person also. To get better pics I'm afraid I might risk outraging public decency.