I've been trying out my new pair of running shoes by actually running in them. I still consider myself a runner even though I have been walking the past couple years.
So I am doing the run/walk thing and it is working for me. I am not winded doing it, my leg muscles are out of shape. So I run for a while, and then walk until I feel like trotting again. Going about 2 miles in the neighborhood streets and averaging about 14 to 15 minutes per mile. Pretty slow I know but I am working up.
The golf courses are open and that is good to see. If any outdoor sport could be safe it would be golf, with a few rules changes.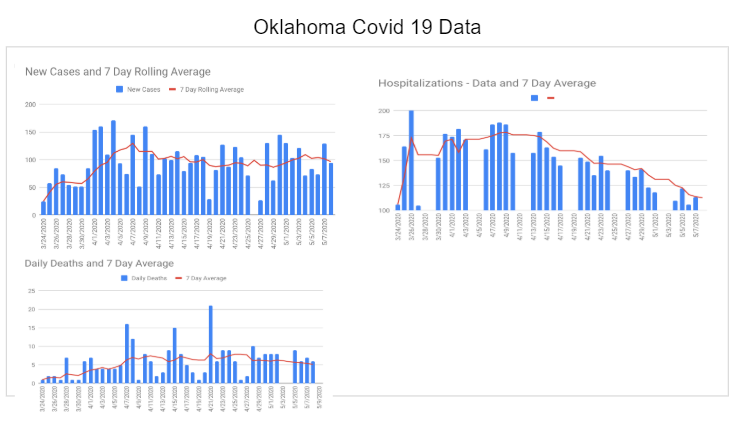 My updated Covid 19 stats for Oklahoma. I am using Google's "Slides" app. Their equivalent to Powerpoint. I am trying to figure out if I should do the Office 365 thing and get Powerpoint, Excel, Word, and Access. I love the software but the cheapest plan is $70 per year. I kind of like free and as long as free meets my needs then I'll keep using it. What do you think?
Back to the data. The governor kept telling us that as long as new infections continued their decline he would enter phase two of the reopening and as you can see, new infections are not declining so he has new metrics to go by. Typical politician move.
How are things where you live?