The Philbrook Museum of Art is one Tulsa's great treasures. It not only has fine art inside the building but very nice gardens with a wide variety of sculpture outside.
They have recently added something that now makes the museum perfect. They have their own geocache. Geocaching is fully described here. Basically, you try and find a hidden container given its coordinates. The Philbrook geocache is named "muse" and its geocache page is here. It is a mystery cache which means that the coordinates given are not the actual coordinates. To get the actual coordinates you have to solve a series of puzzles which involve collecting clues from the various sculptures in the gardens at the museum. It is fun.
So I used my lunch hour to go find it one pretty day last week. What a treat.
"Prayer" by Alan Houser, a native American artist. You know, four months I had never heard of him, now I see his work all over the place, including our Oklahoma license plates.
The Tempietto on the grounds. I like that word. I hope to use it playing Scrabble one day. That would be worth a lot of points.
They had two satyrs, this one and a male. I like the female satyrs best for some reason.
This was my most startling find. I came up on it and I thought, "The leaves are huge, and they haven't fallen." It's actually a sculpture. There are four "trees" in all in the piece, you can see two more up the hill to the right. You can barely see the fourth at the top of the hill." The leaves are glass attached to the steel "tree." I loved this. It is titled "Oklahoma Autumn" by Eric Baker.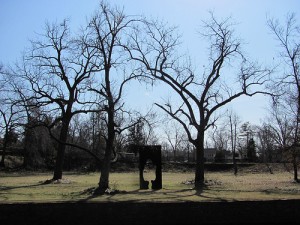 This piece is called "Negative Tree" by Menashe Kadishman.
Other various images from that noon hour.
Did I find the cache?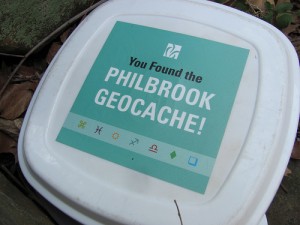 Of course I did, but the fun was in the looking, the finding was just a bonus.
My wonderful MIL, Nana, got me a one year membership to the museum for Christmas. I'll be spending a lot of time there. Outside with my camera when the weather is nice.
For other views of our world please check out "That's My World"