Sunday afternoon was a very pretty and very nice day so SuperPizzaBoy and I took off to Turkey Mountain here in Tulsa to do some maintenance on our geocache "Rock City" that I posted about originally in September 2011.
The trails were glorious. The sun was shining and the trees are just beginning to leaf out. There is nothing like the new green of Spring.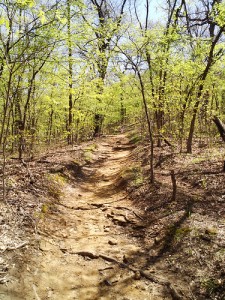 When we got the Rock City area of Turkey Mountain where the cache was we find a group of guys maneuvering their radio controlled vehicles around on the boulders. They were very nice and showed us what they were doing. Turns out they are here a lot and had found the cache months ago. They signed the log and otherwise left it alone. It always amazes me the variety of recreation that people find to do on Turkey Mountain. Geocaching, trail running, hiking, biking, riding horses and now radio controlled vehicles.
The cache was in good shape. Somebody reported that the recyclable camera I had planted there was full so I replaced it and had it processed. That was actually the second camera. Somebody took the first camera. So here are the photos of the people who have found the cache and took photos of themselves or others.
As you can see geocachers come in all sorts of shapes, sizes, ages, and gender.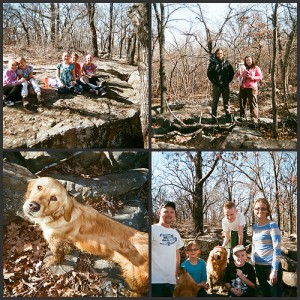 Dogs and even a ferret.
They come in warm weather and cold weather.
They just love finding things way deep in the woods.
The Radio Control Guys told me that they used the last exposure to take a pic of their machines.
Have you ever hid a camera out in the woods?