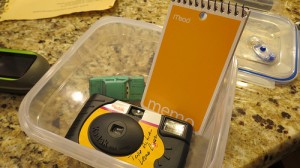 Sometimes the spirit moves me to gather up a notebook, trinkets, and a recyclable camera and put them into a container you might use for leftover peas and then go hide the container in the woods for others to find.
The woods I'm thinking about are about a half mile from the house. I've been mystified lately because a photographer has been taking clients here in among the knee high weeds and garbage strewn from the McDonald's across the street.
This is where they have been setting up their cameras and hauling out wing chairs and fancy sofas, tripods, reflectors, and other such things. I am a mere picture taker and not a photographer so what do I know, but I still don't get it why this is such a great place for wedding photos.
For my cache location I pushed on well past where the photographers click and their subjects pose.
By the time I found a place, hid the cache, checked and double checked the coordinates, the sun was going down and the moon was going up.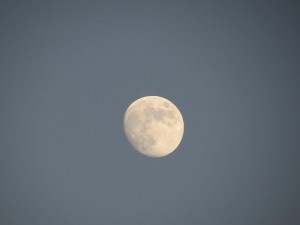 Not bad for hand held moon shot, for a picture taker like me that is. A photographer would hide their head in shame.
This is your only clue. Go check out Strike a Pose! if you want to find it.

I would like to thank my fellow Americans, both Democrats and Republicans as well as the few independents out there for being so supportive of spending unrestricted billions of dollars for high tech satellites in space so that I can go hide tupperware in the woods. I salute you all!

If you were trying to find this cache first (FTF – first to find) you are too late. RobPillageBurn (What a name!) found it within hours of the cache going live. In the dark. He ran into some thorns that I forgot to mention.

Geocaching.com