Saturday, son SuperPizzaBoy and I made a trek on Turkey Mountain here in Tulsa to replace a geocache of ours that had gone missing.
The weather was ridiculously warm, up in the 70's, and it was very dry.
Turkey Mountain had a lot of fall color. With the clear sky and sunny day it was almost sparkly.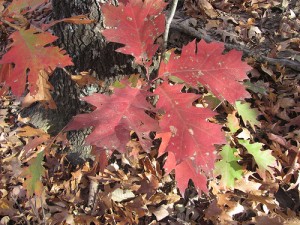 It was very windy in Tulsa and the tops of trees on the mountain were being blown hard by the wind but it was still on the ground.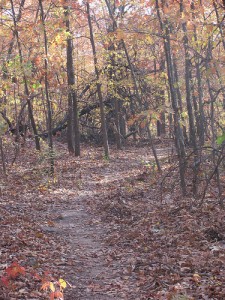 We pretty much had the place to ourselves. Some sort of mountain biking event was winding down by the time we got there. Once we got a quarter mile from the parking lot we only saw a handful of people in the hours we were there.
Good thing we went yesterday because it rained pretty hard up there Sunday and it got cold and overcast. We could use the rain, the ponds and lakes are getting low.
We were both tired by the time we finished but I think we both had a good time.
Have you taken a good walk this Fall?