Who doesn't love neon signs? What used to seem cheap and tacky is now cool.
I've loved the Meadow Gold sign here in Tulsa since it was put back up a few years ago. I didn't realize until last night that I had never seen it lit up at night. I can't believe it. I've been thinking of a good reason to not be on daylight savings time during the Winter all my life and now I finally found one. Do you happen to have another?
This is what it looks like during the day, nice but not the same.
Right down the road is El Rancho Grande. I've never eaten there but if the food is a good as the sign them I'm missing out.
What a sign! I love that long looping lasso that also forms the "El" part of the name. And the Arrow, just in case you are wondering where the restaurant is the arrow is telling you that it is right next to the sign. I wonder how the margaritas are?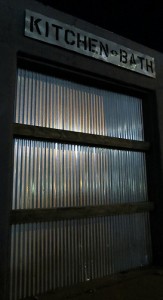 And a bonus, right where I parked my car while taking pictures of the restaurant sign, an out of luck edgy business using corrugated metal in their storefront. Not as cool as neon, but I love the neon reflections.
Have you seen any good signs lately?