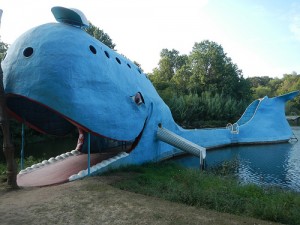 A few weeks ago I found myself with a few minutes to spare in the Tulsa suburb of Catoosa. So, of course I went to the Blue Whale of Catoosa. Right on Highway 66. A tradition since 1972 when it was built.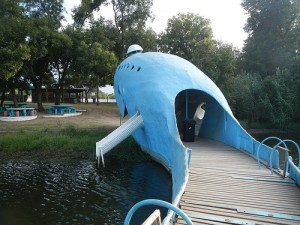 So, you will just have to grin and nod like I do when people talk about how they used to stop here in in the 1940's, 50′, and 60's when the old timers ("most of whom are younger than me!") used to stop here when travelling cross country with their parents. I have yet to mention that it wasn't built until 1972. And they in turn are supportive my illusions. Live and let live is my motto.
It is free. I don't know how, but the place is well maintained, but they don't really want you swimming there anymore.
Even the restrooms are sparkling clean. In over 1800 posts I have only posted the inside of a restroom once and talk about the uproar. You'd have thought they had actually found a live Democrate in Oklahoma. So you'll have to take my word for it.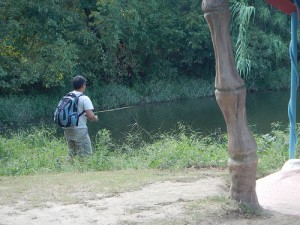 They stock the pond with fish. This guy came trotting through, all "excuse me sir" and of course I was all "excuse yourself sir." Catch and release only.
I didn't spend long, but I always love a trip to the Blue Whale. What is your favorite Route 66 attraction?
I have posted several Blue Whale posts including:
Our World – The Blue Whale of Route 66
Scavenger Hunt Sunday Cooling Off
Weekend Reflections – Blue Whale
And several others.