Sunday I ran the Quarter Marathon part of the Post Oak Lodge Challenge which is a bunch of races of varying length from 10K to 50K held over two days at the beautiful Post Oak Lodge north of Tulsa. I generally run the 10K on Saturday but this year elected to run the quarter because it doesn't change the family schedule very much.
Getting close to race time everybody started assembling near the start line. Meanwhile…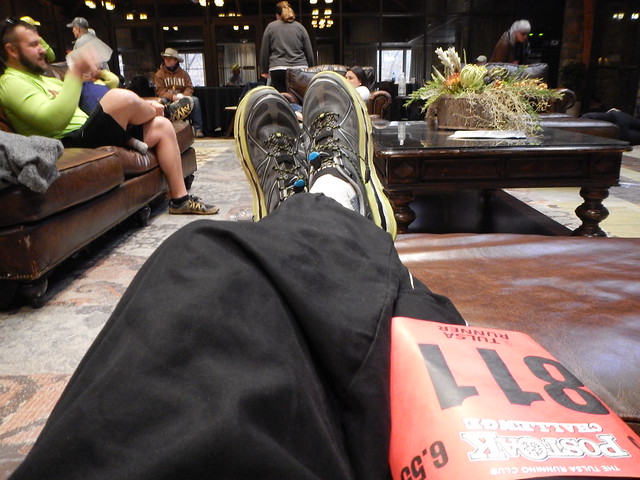 I was finishing up my warm-up routine inside the lodge. I'd of been really warmed up but some young whippersnappers, you know people in their 40's, were taking my spot by the fireplace. Notice my shoes? They are Hokas, specially made for trail running. They are nice but I'm thinking about getting a kickstart campaign going for my next pair. If Heather finds out how much they cost, she might start her own non-financial kickstarter campaign. So far the shoes seem to be working pretty well. They are very cushiony. Yep, cushiony is a word here in Oklahoma. Just so you know.
Off we went down the road and off into the trails. I was hanging back. Wearing my brand new Hokas on a night run on Turkey Mountain several weeks ago I tripped and fell and I think that I might have cracked a rib. I got xrays Friday but haven't got the results back yet. Most advice that I've seen on the web advises against running with a cracked rib. However, most people don't think that what I do is actually running either. So off I went. Slowly though. Notice how I make going slowly an option for me. It is an option. I can either go slowly or just stand there.
The course was really hilly, up and down, and over around. I ran on the level spots and generally walked on the uphill segments. On the downhill spots I ran if there were not many rocks or roots. I didn't want to trip and fall and then have to go to the doctor and endure their questioning about who goes running with a cracked rib. Followed by "Do you really run."
Post Oak Lodge has a zip line course. I was kind of eyeing it to see if I could cut some of the run short. I mean, I doubt the rules actually say that one can't use the zip line. I decided not to do it. Of course several of my fellow runners didn't allow me to use it. I wish they would just mind their own business.
This being Oklahoma we passed oil wells. These might be for sale. At $40 a barrel they should be cheaper than they would have been last summer. You ready? I can probably hook you up.
Off we go up another hill. Except that this is Holmes Peak. The highest point in Tulsa County. Salud!
Are you up for another view of downtown Tulsa? Despite what you think Oklahoma doesn't tilt to the left. It tilts at almost a 45 degree angle to the right. I over corrected. If you are wondering what in tarnation I am talking about then you are not familiar with Oklahoma.
Here is a little more balanced view.
Here is my favorite part of the race. Ken Childress (aka "Trail Zombie" ) manning an aid stop. I think that TZ, as he is known, has introduced hundreds, if not thousands, of people to trail running in northeast Oklahoma. He is a great guy. Check out his blog here.
The Snake Run is a TZ event on Turkey Mountain next week. It is a little different in that everybody runs the same times as everybody else (either a three hour race or a six hour time) the winner runs the most distance. It is fun. I don't know if I can make it or not. I ran it in 2011 and 2012. It's about time I do it again. I really don't know if I can run three hours truthfully.
Hey, I'll cut to the chase. I finished the race (upright, with dignity) and got my meal. The thought that struck was that this is an Okie Methodist Seder Dinner. After running six and a half miles I was not really hungry anyway, but I ate it anyway. I did have a couple malted beverages also. In addition to the one TZ gave me out on the course. I'll do a lot for a beer. Notice the banana? Son Logan does not like bananas. In fact he won't tolerate them in the house. He doesn't like the texture, nor does he like how they change color. He is the banana nazi as we call him. I was in banana heaven today, both aid stations had bananas as well as the lunch served at the end.
And my brand new Hokas. A little muddy, not too bad. Its got some fast zip shoe laces that come in really handy when I'm trying to take them off before I track mud into the house. Tracking mud into the house is a bad bad thing. Take my word for it.
And here is my route map generated in partnership with Garmin and my watch. Complete with heart rates and all that good stuff. So even though I don't really run, I did get my heart rate up. Plus I didn't fall although I did stumble once. Garmin is working on an upgrade to show beer consumption also.
So chalk up another good Post Oak Lodge Challenge. I've been running this event for some time and it is great to see it grow and develop every year.
Here are my posts for the event for 2014, 2013,  2011, and 2010.
So, come up to Oklahoma and run this race with me next year!
Linking with Our World Tuesday