It was my 9/80 day off Friday. I work 80 hours over nine days and get every other Friday off. Son, SuperPizzaBoy and I decided to take a fast trip to the Tulsa Zoo even though we had some on again/off again rains. It turned out to be perfect, the weather was cool, and the zoo was deserted. That suits both SPB and I. We are almost anti-social at times. I mean I like people but when it is crowded, the stupid people are the main ones who show up, or at least make their presence known the most. I don't want to step on any toes in case you happen to be a stupid person. I mean stupid people don't decide to be stupid, they are born that way. They can't help it. Oops Sorry, I digress. And besides they were no stupid people out and about Friday morning, or at least the ones that were well were dispersed. That may be the solution for stupid people, dispersion. You know how some companies, and many present day politicians, used to think that the "Solution to Pollution is Dilution" well maybe it works for stupidity. Maybe not though.
I brought along the fifty year old, plus or minus/ Canon Canonet that my Dad gave me last month. It is a solid hunk of metal, glass, and not much plastic with a light sensor which sets the fstop for a given shutter speed but otherwise is manual focus, film feed, film speed setting, and almost everthing. It sure is silky smooth to operate and the shutter is so quiet that I wondered for a while if it was working. I love it. It's a real gem.
We saw some Siamangs. I had never seen them so active out on their island. It looks like the zoo staff had put their food in the white plastic jugs strung along the rope so the animals were moving out and across fetching and eating their food.
Here is SuperPizzaBoy with the Zoo's statue of Ganesha, a Hindu god with an elephant head placed next to the elephant building which is closed for renovations. Some of my fellow Tulsa citizens periodically make a big deal about the statue saying that its presence at the city owned Zoo means that the city is trying to establish Hinduism as an official religion. These are people who really do need a life or a new hobby or something.At least in my opinion.
We saw a tiger, who was pretty loud. Sorry no zoom on my camera and I'm not cropping the photo. The pics today are all SOC!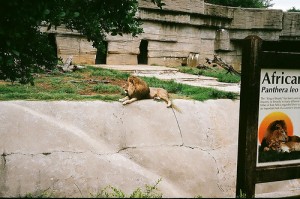 And a lion who was also mouthing off. I'm wondering if the big cats had their breakfast yet.
These guys, within earshot, seemed pretty nervous. What do they feed those big cats anyway? You ever thought about that? I think these goats have thought about it plenty.
We saw some African Penguins. they are only about a foot tall. They are cool though.
SPB tells me that the penguins are his favorite critters at the zoo.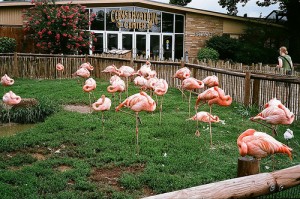 On the way out we passed the flamingos. Talk about lazy, they were still sleeping. Lazy or smart, I'm not sure. What are the going to do when they wake up? Sure is cool how they can sleep while balancing on one leg. Can you imagine how hard that is? Especially here in Oklahoma where the wind never stops.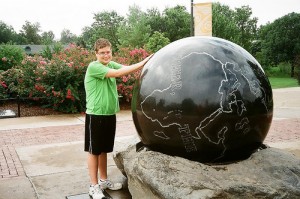 So we went home, with a stop at Walgreens to get the film developed. I'm pretty happy with the results.

So what did you do on Friday.

Saturday, if the weather is good SPB and I might be going to Pawhuska (where the Pioneer Woman lives) to look at the Tallgrass Praire Preserve and the the bison who live there. Too bad Sweetie can't make it, we could stop in and see Ree Drummond (aka "The Pioneer Woman"). She is a great cook but I think she'd lose in a cooking throwdown with Sweetie.