So what the hell did happen?
Well Sweetie's birthday for one thing. We spent the day running around doing errands and fetching stuff.
Later on we headed out to the Cherokee Hard Rock Casino in nearby Catoosa for Sweetie's birthday dinner at their McGills on 19 restaurant.. SuperPizzaBoy spent the evening with his Nana.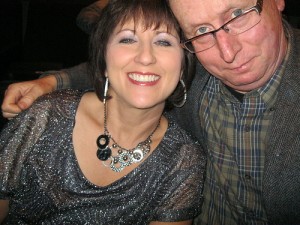 And then we went to see KC and the Sunshine Band at the Joint at the Casino.
Disco music was never my thing but KC put on a great show. The musicians and dancers were top notch. KC was very animated and engaging. He talked between songs a little about the up and downs of his career. "What the Hell Happened?" was the refrain all through the night.
He certainly connected with his audience. His fans were into it. He put on a good show.
Afterwards he signed autographs. I tried to get a photo of him and Sweetie but he was across a wide counter. So this is what we got folks.
The drummer, David Simmons, who Sweetie and I both agreed may be the best drummer we have ever heard showed up and chatted up everybody in line. He is a very nice guy.
Check out the bands website. Lots of good stuff there. Old songs and photographs and all that.
I loved this, a very young KC on his way up early in his career. A young man on his way up.
And I love this video. It typifies the whole disco thing with the funny clothes and dancing. In 1983 disco had flamed out and KC has kind of a hard look to him.

KC and the Sunshine Band has had its ups and downs. I have to admire somebody who keeps on plugging away. At 61 years told KC is still in there giving it everything he has.

And that is What the Hell Happened yesterday.