During our recent vacation to Seattle we rented a car one day to go check out Mount Rainier National Park. The Park is a lot more than a big hill I'll tell you. We went hiking down a nature trail near the Paradise Area to look at a glacier. On our way back we heard some noises like a hard breathing sound and something big moving through the woods.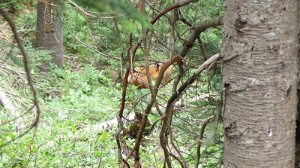 We saw a deer who had stopped an was looking around with their big ole ears.
It looked downhill.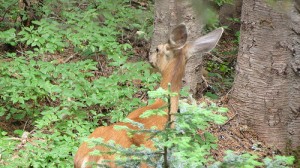 And to the left,
and right,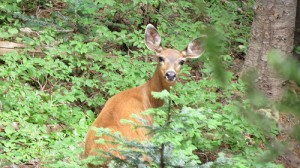 And then right at us. We didn't move and neither did the deer. We finally moved on a few dozen yards and happened on what looked like a smaller version of the first one. I'm certainly no expert on deer but I think it is a black tail deer. By all means if I'm wrong let me know.
It didn't seem too afraid of us either. The first deer started acting a little agitated, trotting back and forth. We could hear it but couldn't see it, so we moved on.