This week's prompts were challenging for me, which makes it fun!

1. Missing


One of my obsessions is geocaching that is a sport where people hide caches out in various locations and post the GPS coordinates on geocaching.com. Others go find the caches and log both a paper log in the cache and the online cache page. Sometimes I end up in creepy places like this long abandoned roadway near Tulsa. I walked down this road about a mile to the cache. This looked like a great place to go missing. Of course, not a soul knew that I was out there. If something happened to me it might a while before somebody found me.

2. Numbers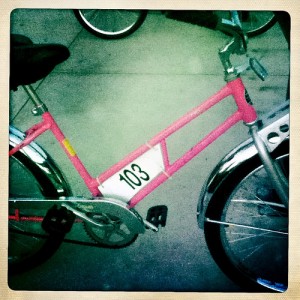 Good old number 103!
3. Purple
Christmas lights on Oklahoma City's canal in the Bricktown area.

4. Music
A guitar tower at Seattle's Experience Music Project. Talk about overwhelming. That was EMP.

5. Bracelet
26,000+ photos on Flickr that I've posted and not one bracelet tag so I'm cheating. This was my mother's turquoise and silver necklace. Mom is gone and Dad gave me her necklace. I remember the day way back when Dad gave it to her. It was a great day for both of them.