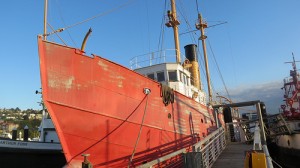 The lightship Swiftsure is retired at the Northwest Seaport in Seattle. She was launched in 1904 and worked on the west coast at various places as a lightship for 56 years and was retired from service in 1960.
During World War II she worked for the Coast Guard challenging vessels trying to enter San Francisco Bay.

She is looking good and is still afloat in her retirement and is a National Historic Landmark.