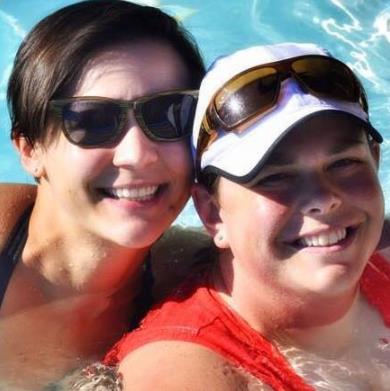 This past weekend we ventured to Oklahoma City with the world's greatest MIL, Nana, to attend the wedding of our sweet friends and family, Libby and Emily above. No they didn't get married in a swimming pool!! This is from earlier.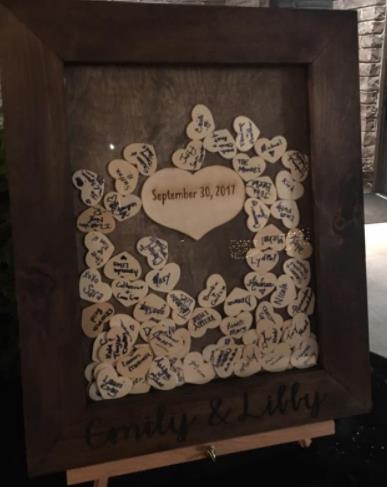 It was a classy affair. Instead of a guest book they had this thing. You signed a little wooden heart and put it in a slot at the top. Being the classy guy I am, I not only signed it, I went ahead and put a Dallas Cowboys star next to my name. Not that they are Cowboys fans, but they should be!!! Right!!?? I don't see my name. Some Eagles fan probably took it out.
The wedding party was very attractive. I stole this pic from Cheri Lou's facebook.  She is probably going to sue me for doing that. So I need you to contribute to my legal defense fund. Just send me your credit card number including that four digit supernumber that unlocks all sorts of good things and your billing address. I anticipate ongoing needs so dont' be cheap with me.
And this is a Yogi original photo. I mean what is up with this group of people, they are ll over the place. Look at them. That is Sweetie on the left, then Nana, then Cheri Lou, and behind her is her husband, Sweetie's cousin, Joe, and the kid in the back is Logan. Quite a group wouldn't you say, and the bar isn't even open. This is my photo but Cheri Lou is probably going to sue over this picture as well. So double up on the legal defense fund. And Sweetie is going to dump me so I need an extra donation for that also.  And you will never guess it from this photo, but  The BAR WAS NOT EVEN OPEN yet!! Yep, they are all stone cold sober.
And here is me with the kid and Heather aka Sweetie. Doesn't she have a sweet smile?
And here is Nana and bored grandson.
And here is the cake, You can tell the bar still isn't open.
Things are looking up though. Heather and I found a shuffleboard table. We do shuffleboard!! We courted playing shuffleboard. That is our thing. We also found a cooler. At least I did.
More selfies, you can tell the bar isn't open yet!!
After the ceremony, the bar opened!! And Sweetie danced. She loves line dancing. I can't do it.
Logan wouldn't dance with his Mom, (this is awkward he said). But he cut a rug with his Aunt Cheri Lou.
And next thing I knew, Heather is leading the Conga line. Why not?
Yep, Emily and Libby got hitched and it was a heck of a party.