Last Sunday morning Sweetie and I left SuperPizzaBoy at home so he could read poetry, listen to music and ponder important thoughts play video games. (No we didn't go to church, we were total sinners and didn't feel bad about it either. I know that we are on your prayer list.) Oh, sorry, I got off track. We went to a local nursery to shop for plants.
At least Sweetie was shopping for plants. I brought my camera along and was taking pictures. Taking pictures (cuz I'm not a photographers, I don't capture images, I take pictures) of the plants but also…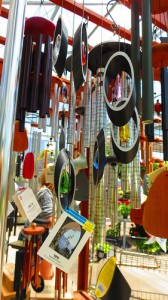 of the bright shiny stuff they have for sale there. I just can't believe that let people like me take pictures for free.
I just love it. I also think its a case of bloggernomics. You don't know what bloggernomics is? Here is a lesson. See all those bright shiny balls below. I don't know how much each string of baubles is but if you are a blogger...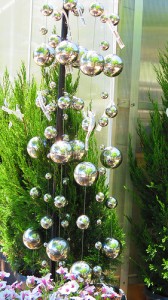 You get all of them for free!!!! That's bloggernomics.
It applies to multiple flats of flowers or
a whole pile of reflective balls. And as a bonus you don't have to haul them out to the car, or unload, and then haul to the back yard. Or water them, or replace them after hail storms or any of that other stuff that comes with the concept of "owning" things.
Is that a win/win or what?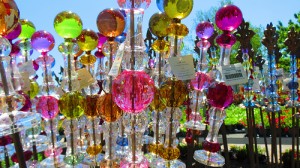 And when we were all done I was happy, and so was Sweetie. Here she is watering the flowers we put in at her mother Nana's house (World's greatest MIL in case you are wondering who Nana is.) Look at Sweetie's big smile.
Nana was happy also, and so was SuperPizzaBoy! No telling what he did at the house while we were gone. I don't want to know. Trust me.
So, do have any good examples of bloggernomics?