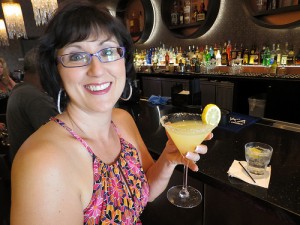 Sunday night Sweetie was a happy woman. It wasn't anything I did, I'll tell you that.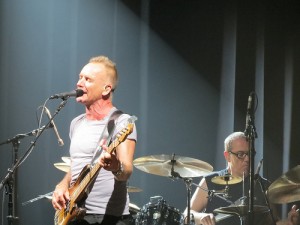 It was this guy's fault. Sting, fomerly of The Police, now international music superstar. Sting started his latest tour at the Winstar World Casino in Thackerville, Oklahoma. Never heard of Thackerville? It is right over the border from Texas. Texans hungry to throw their hard earned money away come in droves to give it to the Sallisaw Tribe. The casino has a very nice events center and that is where Sting kicked off his Summer 2012 Tour. You want to know where he is going next?
Sting is going to a few places here in the States and then heading over to Europe. But it is starting in Thackerville. Cool for Sweetie and I. Anyways, I digress.
Sting was awesome. Sweetie is a huge fan, I liked him until I heard this concert, now I'm a fan. Not like Sweetie though.
He is a very gifted and accomplished performer. His band and backup singers are great also.
The violinist, Peter Tickell, blew us away. You show up in Oklahoma you better know how to play, and he does. He looks so young.
The music just flowed from the stage, no hickups or bad notes (like I would know, right.)
The keyboard player, see him? He is a very nice guy David Sancious. We chatted with him for a little while in the bar before the show. Very soft spoken and unassuming, very nice to a couple Okies. He told us that he played the keyboards and told us a little about Sting, and the band. He has been with Sting off and on for twenty years. He made it sound like it wasn't any big deal. We google him afterward and find out he is a very sought out musician. He toured Bruce Springsteen in the early years of the E Street Band, he also played with and toured with Peter Gabriel, Santana, Seal, Jeff Beck and so on. Plus he has several albums of his own. So we are now fans of Mr. Sancious.You just never know who you are going to run into do you?
Anwyways, Sweetie was happy and I was happy that Sweetie was happy. I give the concert of five stars out of five.
Anyways, a youtube clip of Sting singing.
All This Time
Every Little Thing She Does Is Magic
Englishman In New York
Demolition Man
I Hung My Head
Driven To Tears
Fields Of Gold
Sacred Love
Shape Of My Heart
Love Is Stronger Than Justice (The Munificent Seven)
The Hounds Of Winter
Never Coming Home
Desert Rose
King Of Pain
Every Breath You Take
Next To You
Have you been to a good concert lately?